RAILS & ZIP LINE COMBO (May 27 to June 9). Zip Line 8:30 a.m. check-in, 12:30 p.m. check-in for 1:00 Train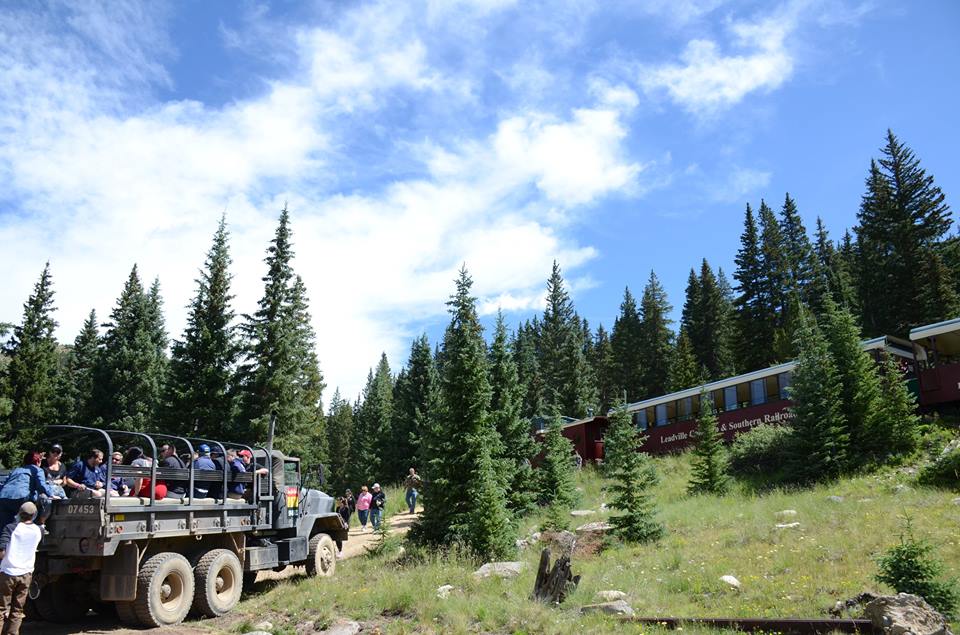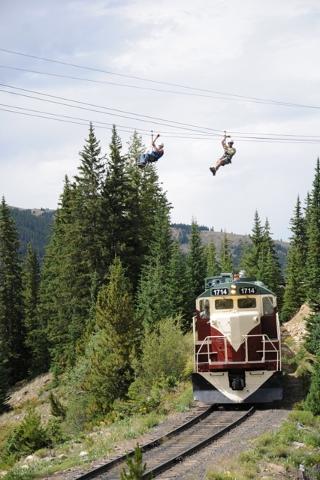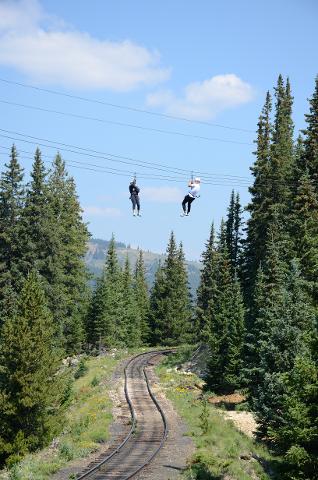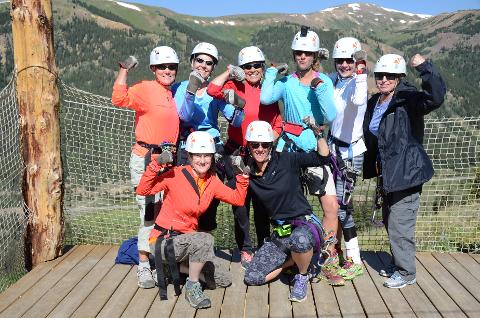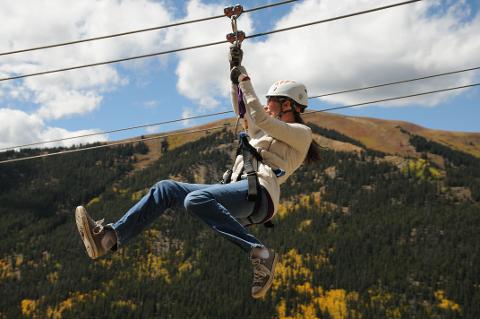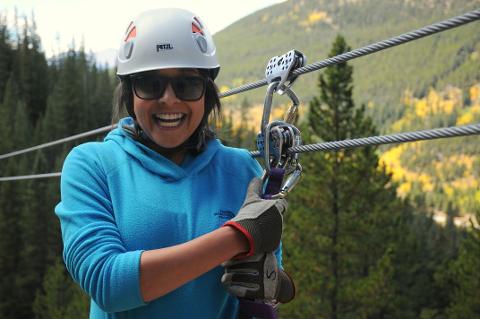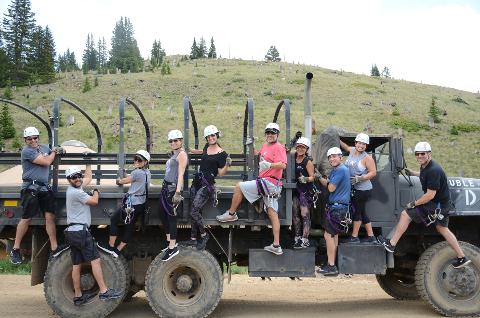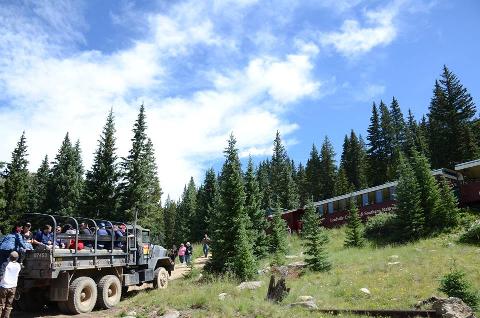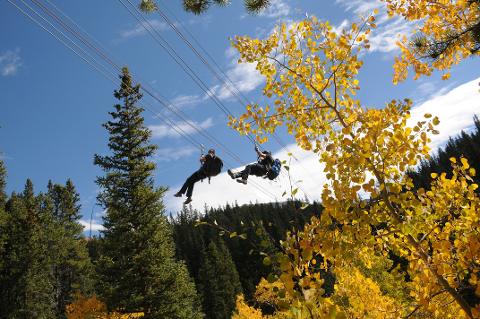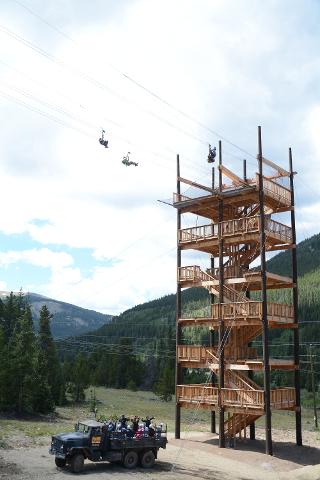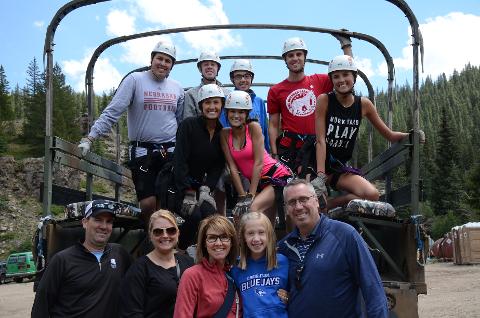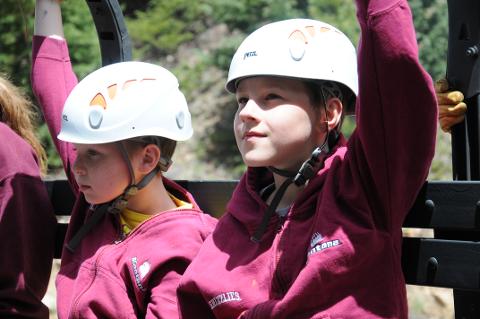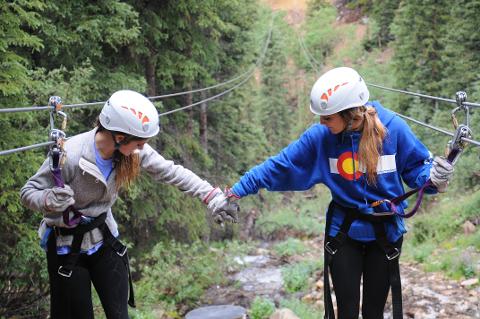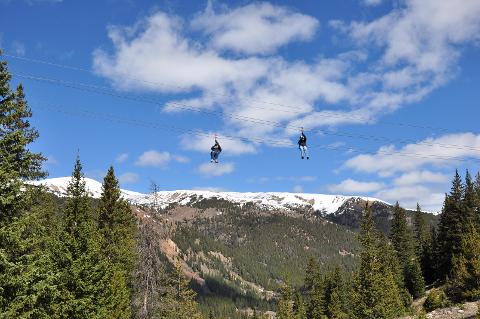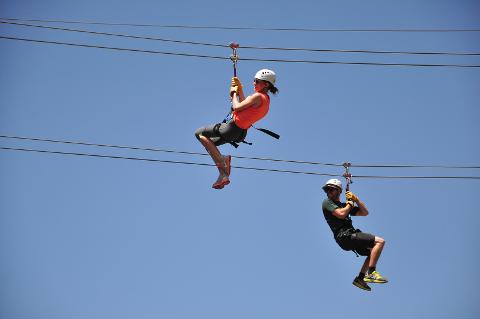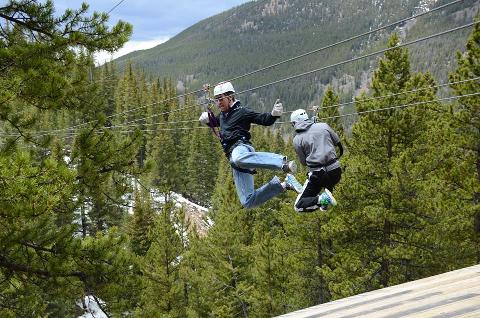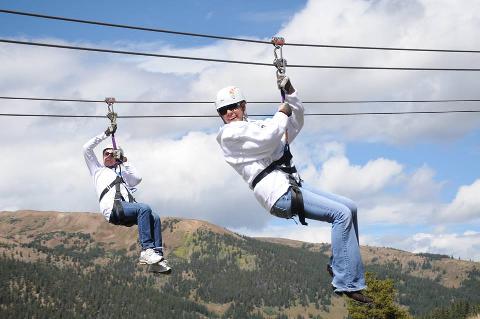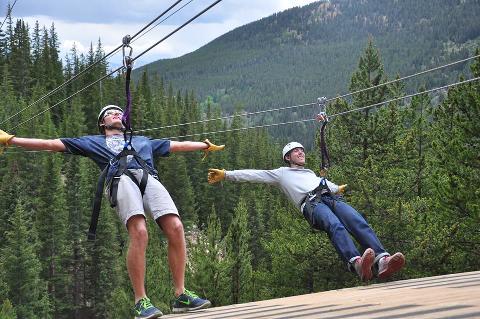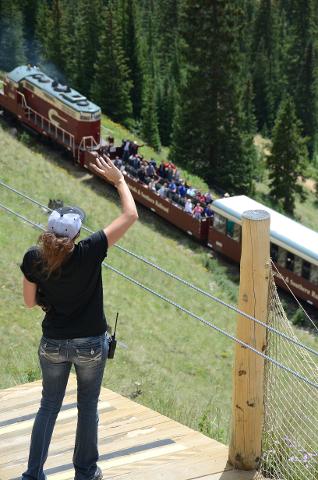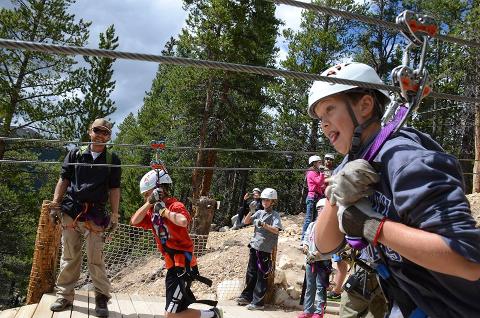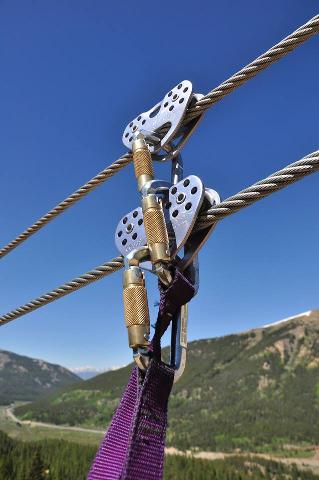 Duration: 8 Hours (approx.)
Location: Leadville, CO
ZIP LINE WITH TOP OF THE ROCKIES then RIDE THE LEADVILLE TRAIN. ZIP LINE COMES FIRST FROM 9:00 AM TO 11:00 AM, THEN ALL ABOARD THE LEADVILLE TRAIN FROM 1:00 PM TO 3:30 PM.
This exciting tour combines all Six sections of the 2-Hour Top of the Rockies Zip Line Tour P

LUS a 2-1/2 hour ride on the Leadville Train.


Arrive at the Top of the Rockies at 8:30 for a 9:00 departure for your 2-Hr. Prospector Zip Line Tour. Address: 6492 Highway 91, Leadville, Co. 80461
OUR PRIVATE PROPERTY IS NOT ACCESSIBLE TO THE GENERAL PUBLIC. It goes from 10,000' at Base Camp to 12,800' high on the Continental Divide on the slopes of Mount Arkansas, 13,750 feet high. The famous Arkansas River originates here, flowing across the property as a small stream, becoming the Mighty Arkansas as it runs south. There are more than 40 historic patented gold mines on the property with colorful names like The Golden Treasure, General Grant, The Copper Prince and Drussie Wilson. You will see some of these old mines as you travel from Base Camp up to the first zip line departure area. Look for wildlife on the property; it's home to herds of Elk, Deer, Bear, small animals and birds. Wildflowers are abundant. Rivers and streams in the area are teeming with several species of trout and the ponds at Base Camp are stocked each year.

This area is spectacular and unspoiled. We hope you will enjoy your visit.
THIS TOUR INCLUDES STANDARD SEATING. FOR UPGRADED SEATING OPTIONS, CALL THE LEADVLLE TRAIN AND PAY THE UPGRADE
AMOUNT DIRECTLY TO THE TRAIN.
ZIP LINE TOUR DETAILS: All Six Sections of the Zip Line are included
Guides will make sure your full body harness and helmet is fitted and adjusted properly then after a safety briefing and training zip line, climb aboard Monster Trucks or Polaris Rangers for an exciting ride up winding trails to our high mountain yurt at 11.500'. Guests will be flying side by side with friends and family members over 6 separate flight paths, each with unique terrain, speed, length and distance off the ground. Take-off decks are easily accessible and flat on the side of the mountain. There is no need to climb up ladders into trees to get high. All decks are between 10,000 and 11,500' of altitude. Because of our automatic braking system and stress free landings, this zip line is entirely appropriate for children and seniors.
The Big Nugget Zip, #6, has the longest, highest, most exciting and fastest zip lines. After landing on the 100' Tall Sky Tower descend back to earth on wide stairways and stop to take photos on the six viewing decks along the way. Marvel at panoramic views. You are surrounded by some of the tallest mountains in North America. Mount Massive and Mount Elbert, two of the famous "Fourteeners" are visible to the south.
Friendly professional guides accompany all tours from start to finish. Guests comment our guys and gals are "rock stars". Tipping is customary and greatly appreciated.
Top of the Rockies Zip Line is Registered with the State of Colorado, insured and inspected as required every year.
WHAT TO WEAR:

Long pants are recommended, closed toe shoes like hiking boots or sneakers are best. At our high altitude It's always appropriate to dress in layers with a warm sweater or jacket. Bring sunglasses for eye protection. It's OK to carry a small backpack for bottled water or a cell phone. Complimentary raincoats are provided at the base camp.
WE PROVIDE:

HELMETS, GLOVES AND COMPLETE HARNESS AND OTHER GEAR. It's ok to bring your own gloves but you can wear ours It's fine to bring cell phone or camera but be sure to keep it safely secured during the tour. Small backpacks are OK.
A PHOTO SERVICE IS ON SITE.
RESTRICTIONS:

No one less than 60 pounds or more than 260 pounds may participate.
Pregnant ladies cannot participate.
All participants must sign a standard Liability Waiver.
RIDE THE 1-3:30 p.m. LEADVILLE TRAIN AFTER YOUR ZIP LINE TOUR IS COMPLETED.
Drive to the Leadville Train Station at: 326 East 7th Street, Leadville, Co. 80461. It's only 12 minutes away. Staff at ZIP LINE Base Camp are happy to give detailed directions.
Meet the Conductor and the Train Crew then it's "All Aboard" for a journey back in history. Join visitors and locals on the Leadville Colorado & Southern Railroad as it climbs 1,000 feet above the valley floor, traveling through untouched wilderness areas with some of the most spectacular views in the Rocky Mountains. Learn about the wild and crazy days of the past when Leadville was a boom-town and famous outlaws walked the streets.
After arriving back in Leadville ABOUT 3:30 we recommend a stroll along Harrison Avenue. Charming shops in Victorian-era buildings welcome visitors. Perhaps you will want to top off a great day with dinner or beverages in one of the many restaurants and historic saloons like the Silver Dollar.
WEATHER:
Weather is extremely changeable in our high mountain location. Most weather forecasts are undependable. We do not cancel if showers are forecasted. Usually they pass by quickly and we continue the tour after a brief wait. We do reserve the right to cancel tours because of extreme weather and in that event no charge will be made and the reservation can be rescheduled without penalty.
CANCELLATION POLICY: 48 HOURS.
NO DISCOUNTS ARE AVAILABLE ON THIS TOUR.
Location of Top of the Rockies Zip Line: Address is: 6492 Highway 91, Leadville, Colorado 80461. We are only 1-1/2 hours from Metro Denver, 45 minutes from Keystone, Breckenridge, Vail and Beaver Creek and just a little over One hour from Aspen over Independence Pass in the Summer. From Exit 195 on Interstate 70, Take Highway 91 south from the Interstate and look for mile marker 7 on the left, approximately 14 miles south of Copper. Slow down and make a left hand turn into our driveway. Look for the red/white and blue flags on the driveway and the 100' tall wooden tower in the parking lot. Check in at the bright red building. From Leadville go North on Highway 91 and look for mile marker 7, driveway is on the right, look for the 100' Tower with flags. Check in at the red building.
Location of Leadville Train:
326 East 7th Street, Leadville, Co. 80461
Phone Numbers: 800-247-7238, 970-668-5323.